Report a bug
If you spot a problem with this page, click here to create a Bugzilla issue.
Improve this page
Quickly fork, edit online, and submit a pull request for this page. Requires a signed-in GitHub account. This works well for small changes. If you'd like to make larger changes you may want to consider using a local clone.
Visual D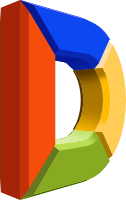 Visual D is a Visual Studio package providing both project management and language services. It works with Visual Studio 2008 - 2019 including Visual Studio Community as well as the free Visual Studio Shells. See the Installation instructions, especially if not using a commercial or community edition of Visual Studio.
Visual D aims at providing seamless integration of the D programming language into Visual Studio.
| | |
| --- | --- |
| | Latest release: Visual D 1.1.1 |
| If you are just starting with the D programming language and don't have a compiler installed then this download provides you with everything to get you started with writing D program in Visual Studio including the reference compiler DMD 2.096.1 and the LLVM-based compiler LDC 1.25.1: | download size approx 80 MB |
| If you are a Visual D user or have a D compiler already installed then this download provides you with an update to boost your experience in Visual Studio: | download size approx 4 MB |
| Cutting edge prereleases if you want to try the most recent improvements to Visual D: | |
Overview
Use the navigation bar on the left to take a tour of Visual D including a lot of screen shots.
Project management with all DMD options available through the UI
seamless VC project integration
Syntax highlighting with special version and token string support
Code completion and tooltips from semantic analysis of source code
Underlining of syntactical errors
Goto definition
Parameter info tooltips
Code outlining
Symbol/File search window
Integration with the Visual Studio debugger through native D expression evaluation or custom debug engine Mago
Profiler browse window
Code Coverage support
Support for Error List, Code Definition window, Object Browser and Class View
C++ to D Conversion Wizard
Completely written in D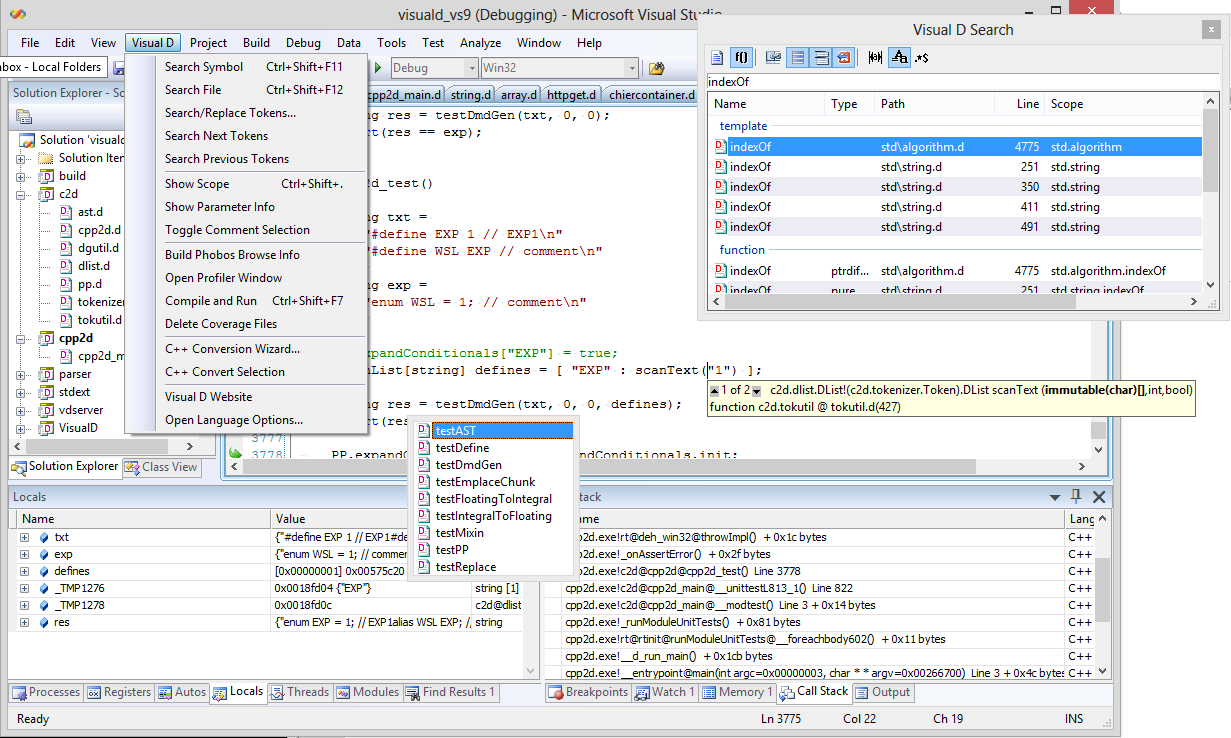 Read more...
News
Full version history and complete details...
2021-04-28 Version 1.1.1
semantic engine updated to frontend of DMD 2.096.1
full installer now bundled with DMD 2.096.1 and LDC 1.25.1
2021-03-02 Version 1.1.0
semantic engine updated to frontend of DMD 2.095.1
experimental: show parameter storage ref/out/lazy at call site
integrated dfmt for "Format Document"
2020-08-23 Version 1.0.1
dmd based semantic engine: updated to DMD 2.093.1
editor: now extra mouse buttons to navigate backward/forward supported
installer: full installer now bundled with DMD 2.093.1 and LDC 1.23.0
2020-07-04 Version 1.0.0
DMD based semantic engine: enabled by default, updated to front end version 2.092
mago: customize debugger display with methods/fields __debugOverview, __debugExpanded, __debugTextView
navigation bar: display and change current edit scope
goto definition by clicking identifier in tool tip
more...
Download
The latest installer and older versions can be downloaded here.