Report a bug
If you spot a problem with this page, click here to create a Bugzilla issue.
Improve this page
Quickly fork, edit online, and submit a pull request for this page. Requires a signed-in GitHub account. This works well for small changes. If you'd like to make larger changes you may want to consider using a local clone.
Visual D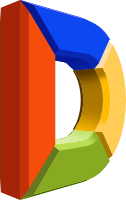 Visual D is a Visual Studio package providing both project management and language services. It works with Visual Studio 2008 - 2019 including Visual Studio Community as well as the free Visual Studio Shells. See the Installation instructions, especially if not using a commercial or community edition of Visual Studio.
Visual D aims at providing seamless integration of the D programming language into Visual Studio.
Overview
Use the navigation bar on the left to take a tour of Visual D including a lot of screen shots.
Project management with all DMD options available through the UI
Syntax highlighting with special version and token string support
Import statement completion, semantic word-completion
Underlining of syntactical errors
Goto definition
Parameter info tooltips
Code outlining
Symbol/File search window
Profiler browse window
Code Coverage support
Support for Error List, Code Definition window, Object Browser and Class View
C++ to D Conversion Wizard
Code completion and tooltips from semantic analysis of source code
Completely written in D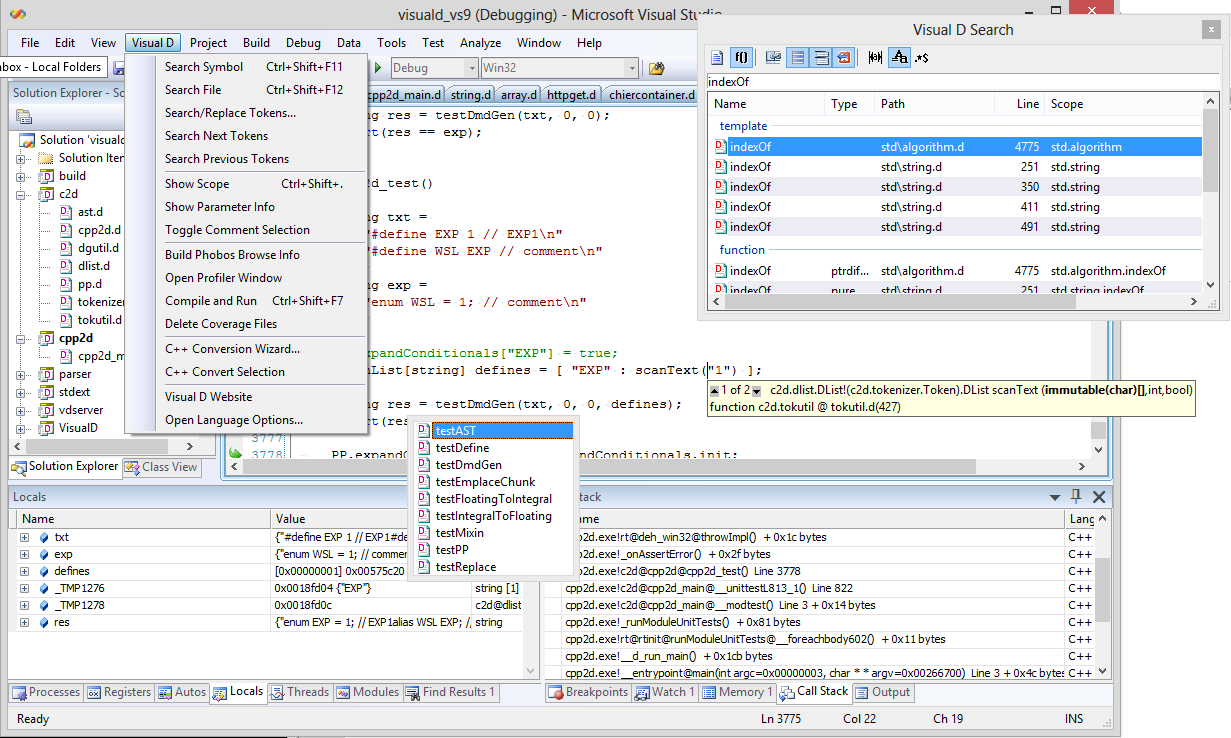 Read more...
News
Full version history and complete details...
2019-04-28 Version 0.49.2
VS2013/VS2015: VC projects broken in 0.49.1 due to unsupported msbuild variable
VS2015: workaround VS not correctly updating extension caches after uninstallation
2019-04-21 Version 0.49.1
fixed reading settings from VC projects in VS2017
added support for VS2019 Update 16.1
dparser improvements and bug fixes
2019-04-07 Version 0.49.0
support for Visual Studio 2019
parallel compilation supported by VC projects (thanks to Igor Cesi)
catch up with recent language changes
new "Language" configuration page for -transition=/-preview=/-revert= options
2018-12-22 Version 0.48.1
goto definition on alias: jump to base definition if caret on alias
cv2pdb: fix missing line numbers for new versions of mspdb*.dll
mago: variables captured from stack of outer function not displayed in locals
2018-12-02 Version 0.48.0
installer and binaries now digitally signed by the "D Language Foundation"
dparser now has semantic support for static foreach (thanks to Alexander Bothe)
experimental: option to enable semantic identifier highlighting
mago debugger: show return value, showing closure and capture variables as locals for dmd 2.084
more...
Download
The latest installer and older versions can be downloaded here.